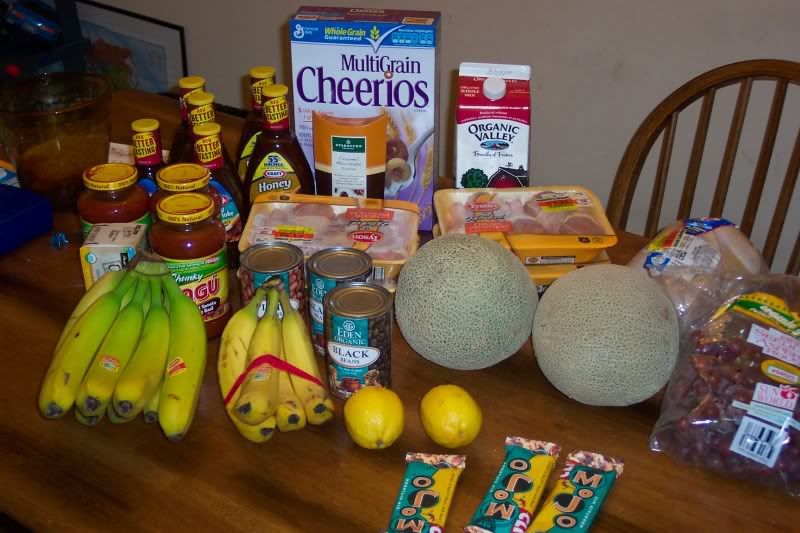 Got all of this at Dillon's for $28. Not sure if it looks like a great deal to you, but consider about half is organic! (What do you think? Worth a pic or not?) BTW, you might not be able to tell, but it includes organic butter and a whole Smart Chicken (manager special).


Dillons
Did you print the Tyson Fresh Chicken q I posted a couple days ago? I hope so, because it's gone now. If you did, Dillons has chicken legs for $.99/lb. I bought four packs today and only paid between $.20 - $.25 each.
There is a promo this week, where if you buy 10 participating items, you get $3 off your order.
Here is what I did. (I'll list prices b4 discount--which is backward from how everyone else does it)
Kraft BBQ sauce $.99 Bought 6, used 6 $.75/1 q's = free
Ragu Sauce $1.66 Bought 3, used 3 $.60/1 q's = $.66 each
Multi-Grain Cheerios $2.66 Bought1, used $1/1 q, plus $.75 off e-q from Shortcuts = $.91
THEN I got $3 off my total bill (so the bbq sauce, especially, earned $$)
Cantaloupe $1.67
Organic Grapes still marked $1.99/lb Rang up $2.29/lb I asked to get free, per pricing accuracy policy (I can deal with a hateful cashier to get free grapes **eye roll**)
Organic Lemons $.44 each
Clif, Luna and Mojo Bars 10/$10 Use $1/3 q in Go Organic! Book (this is a good price--not great, only a few cents less than Target and Walmart)
There were organic canned beans in the clearance bin for $.99 each.
Here's an idea to get free/cheap sugar, also. There were q's on coupons.com a few weeks ago for Kool-aid $.50/10. IF you printed two of them (I did not, sigh, who knew!?), look for 10/$1 sale (would double and be free). Use those 2 q's AND the one in last week's paper for $2 off sugar wyb 20 pks kool-aid (does not specify type of sugar--brown, white..., or brand--organic, cane, etc.)
Target
I ran by there today in the hopes of snagging nearly free ice cream. It was all gone. However, keep your eyes peeled in case they restock (which they rarely do in cases of great deals). The Target Coupon Generator (find on Organic Grocery Deals) has a coupon for $1/1 Edy's or Dreyer's Ice Cream. There is a small size on sale for $1.19 right now.
Go to coupons.com (use in upper right, please!) and print the $5/1 for Pictureka. You can find the card game at Target (and prob. Walmart, etc.) for $6.99, so only $1.99 after q. I got one today. My kids love games.
Solo "Bare" brand eco-forward disposable cups/plates are on sale for $1.50 Find a $1/1 q
HERE.
Post a comment or email if you want more info on how I found a q, etc.